Moringa and the Cullman Chemoprotection Center's Dr. Jed Fahey are featured in this video from ATTN:  https://www.facebook.com/attn/videos/2141222842602560.
ATTN: is a relatively new media company that gets billions of "impressions" and about a billion monthly video views. They do original reporting and produce mini-documentaries. For example, they report on sources of food, sustainability, and healthy eating in their most recent series, "Your Food's Roots," with actress Zooey Deschanel.
The two-minute video we're featured in had over 400,000 views in just the first 24 hours it was out!
Enjoy.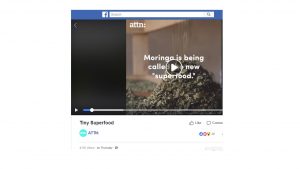 Latest posts by Cullman Chemoprotection Center
(see all)