Science Based Health Benefits of Moringa
Korean documentarians Hyun Sik Noh and Ryan Lee have produced a documentary about moringa for Korean television. Excerpts of the video (with English subtitles) feature the Cullman Center's Dr. Jed Fahey and its phytochemistry lab and highlight the many nutritional and health benefits associated with moringa.
---
Tiny Superfood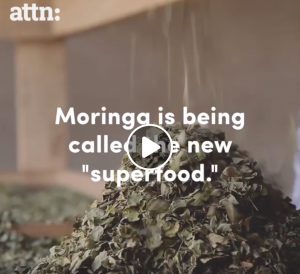 Moringa and the Cullman Center's Dr. Jed Fahey are featured in this Facebook video from ATTN*, which has had more than 3 million views!
*ATTN: is a relatively new media company that gets billions of "impressions" and about a billion monthly video views. They do original reporting and produce mini-documentaries. For example, they report on sources of food, sustainability, and healthy eating in their most recent series, "Your Food's Roots," with actress Zooey Deschanel. 
---
10th Annual George G. Graham Lecture and Hopkins Centennial Nutrition Symposium
Dr. Fahey's contribution begins at approximately 2:08:00.
---
Development of Sulforaphane as a Nutritional Supplement
A presentation funded by the Maryland Cigarette Restitution Fund.
---
Jed Fahey, Sc.D., on Isothiocyanates, the Nrf2 Pathway, Moringa, & Sulforaphane Supplementation
Nutritional biochemist Dr. Rhonda Patrick interviewed Dr. Fahey for her podcast, FoundMyFitness.
---
Sulforaphane with Dr. Jed Fahey
SmartDrugsSmart Podcast #190
---
Moringa with Dr. Jed Fahey
SmartDrugsSmart Podcast #203
---
Jed Fahey Interview

Food Sleuth Radio Audio Story
---
Nutritional Medicinal Tree
VOA's health correspondent Linord Moudou talks to Dr. Jed Fahey about a tree that will offer nutritional and medicinal needs.