Your gift will help the Cullman Chemoprotection Center continue to be a global leader in the enhancement of wellness and optimum health through diet-based prevention of chronic disease. The Center excels in research bridging plant chemistry and human health. With your help, it can continue its mission of improving lifelong protection, prevention, or delay of debilitating and degenerative conditions associated with aging.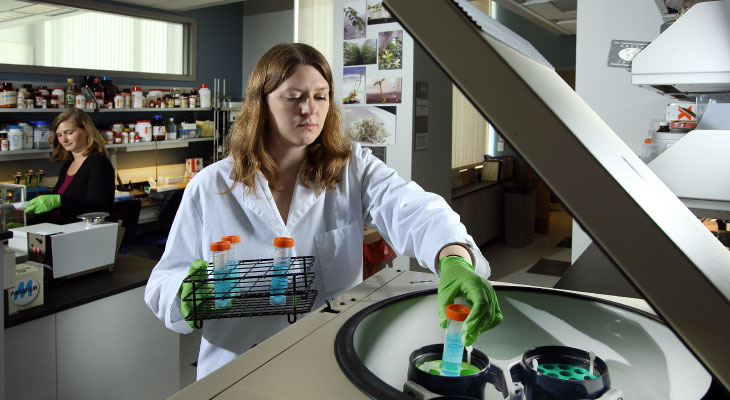 Why Give?
People sometimes ask us why "a place like Johns Hopkins" is looking for donations. It is a good question, so let us set the record straight. The Cullman Chemoprotection Center (CCC) was very fortunate to have been started, and to have received continued funding, through the generosity of the Lewis and Dorothy Cullman Foundation and others. Being at Johns Hopkins means that we are at one of the very best biomedical research establishments in the world. This is a wonderful situation to be in, but it does not mean that our research is funded internally! Some projects at Johns Hopkins do receive internal funding, but the vast majority of them are funded by grants and philanthropy coming directly to the principal investigators and/or the centers or institutes in which they work.
We are currently very much in need of your support. We have a large number of projects underway, all tied in one way or another to the central importance of plants as sources of cytoprotective strategies and agents (protecting cells and organisms against disease). We need your help to keep them all going.
No matter the size of the financial contribution, you may specify the area you would most like to support.
Autism clinical trials combining diet-induced behavioral changes with molecular biomarkers
Bioavailability of phytochemicals from broccoli and related plants (clinical trials)
Chemoprevention: combinations of phytochemicals and approved drugs for breast cancer prevention
Develop ways to enhance utilization of phytochemicals from the tropical vegetable, Moringa oleifera
Enable our smartphone app-based laboratory science for underserved regions of the the world
Help us to maintain and improve our outreach efforts to non-scientists around the world
Help us out with general operational support
Methods of Payment
To support the Center, please visit our secure Johns Hopkins School of Medicine Make a Gift Website. On the online donation form, you can indicate that you want your contribution to go toward the support of the Cullman Chemoprotection Center (in the field labeled, "Please designate my gift to support").
Your advice on ways in which we can do a better job communicating the results of our progress to the public is always welcome. We are most grateful for your assistance in moving forward our important biomedical and public health research agenda.

We encourage you to click here to donate, write the Center, or call (410-614-2607) and speak with its Director, Dr. Jed W. Fahey about funding opportunities.
All contributions will be gratefully acknowledged and are tax deductible.