Our Latest News
The CCC and Dr. Jed Fahey were featured in the media again this summer. Kate Krader of Bloomberg's Businessweek interviewed Dr. Fahey for this entertaining story about how a growing number of chefs are incorporating moringa into their recipes, and award-winning author Amanda Little
interviewed him for her book, Fate of Food, in which she investigates the issue of how to feed the world sustainably in the near future.
But the biggest story since our last newsletter? RESEARCH. The CCC and its scientific partners published the findings of three studies that have important public health implications, especially regarding the prevention of chronic diseases such as diabetes and cancer and for the treatment of autism and other mental disorders. You can read all about these interesting studies in our Research Roundup below.
---
Research Roundup
New method for extracting beneficial compounds in moringa identified
A team of researchers from the Cullman Chemoprotection Center and the Universidad Nacional Autónoma de México, led by Dr. Jed Fahey, has developed a convenient and household-friendly method of extracting the beneficial compounds present in moringa, a tropical plant native to central and southern Asia. The findings were published on July 9 in "Plant Food, Nutrition, and Human Health," a special issue of the journal Nutrients.
Moringa, commonly known as horseradish tree or drumstick tree, is widely known for its nutritional and medicinal qualities. A growing body of scientific evidence suggests that moringin, a compound derived from moringa, may provide protection against chronic diseases, such as cancer and diabetes, and may be useful in treating the symptoms of mental disorders, such as schizophrenia or autism.
Dr. Fahey and his colleagues set out to develop a product that could easily be mixed with other foods or used as a beverage that contained a calibrated amount of the phytochemicals under study. A second need was to develop a placebo for use in clinical trials with moringa, which has been challenging due to moringa's distinctive bright green color and pungent flavor.
The team of researchers developed two methods for extracting glucomoringin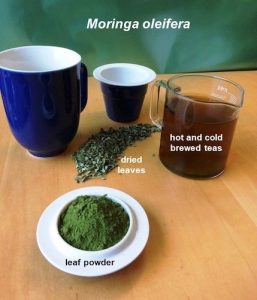 (the glucosinolate found in moringa) or moringin (the end-product isothiocyanate) from moringa and delivering them in a palatable beverage. A hot-water extraction method produced a palatable, yet astringent tea rich in glucomoringin, which must be converted to the active isothiocyanate moringin by the myrosinase in the gut. A cold-water extraction method, however, produced a milder, pleasant-tasting tea, rich in the active isothiocyanate. 
Identifying the efficiency of these phytochemical extraction methods for creating teas from moringa will facilitate the delivery of moringa tea to both adults and children in future clinical trials to gauge their effects on a wide range of health conditions, including autism, diabetes, and hypertension.
__________________________
Myrosinase survives stomach acidity
New research from a team of scientists led by Dr. Jed Fahey of the Cullman Chemoprotection Center examined whether stomach acidity influences the activity of myrosinase, a type of enzyme. Myrosinase plays a role in the production of sulforaphane, a beneficial plant compound derived from broccoli and broccoli sprouts. The findings were posted online June 29, in the journal Nutrients, and will appear later this year in the special issue "Plant Food, Nutrition, and Human Health."
The team of researchers conducted a study to determine whether stomach acidity would affect the activity of myrosinase that was co-delivered in a dietary supplement containing glucoraphanin. The study involved 16 healthy adults of varied ages, races, and other demographics. Each participant took the dietary supplement either with or without a proton pump inhibitor (a type of drug that lowers stomach acidity). Afterward, the researchers collected urine samples from the participants to determine how much sulforaphane they excreted – an indicator of how active the myrosinase was.
They found that delivering myrosinase and glucoraphanin together markedly increased sulforaphane production among the participants, with approximately 32 percent of the glucoraphanin being converted to sulforaphane metabolites, regardless of the participants' ethnicity, sex, body mass index, vegetable consumption, or bowel movement frequency. Taking a proton pump inhibitor had a relatively minor effect on its production. The researchers also noted that blood-markers of cellular protective responses were slightly elevated even after a single dose of the supplement.
__________________________
Sulforaphane from broccoli sprouts combats a cause of air pollution injury
Air pollution contains a myriad of toxic substances. One of these substances, benzene, is known to cause cancer in humans. Findings from a new study, published in the American Journal of Clinical Nutrition and led by the Cullman Chemoprotection Center's scientific partner, Dr. Tom Kensler, indicated that sulforaphane provided in a broccoli sprout beverage increased the body's excretion of benzene in a dose-dependent manner.
Sulforaphane is the end product of a reaction between two chemicals produced in broccoli and broccoli sprout plants. When people chop or chew the plants, the two chemicals come together to form sulforaphane. It is what gives broccoli and broccoli sprouts their pungent flavor.
Sulforaphane switches on cellular pathways that protect cells from exposure to environmental carcinogens. Exposure to the chemicals in air pollution kills or sickens many millions of people every year. China has the highest levels of air pollution anywhere in the world. This study involved 170 healthy adult participants between the ages of 21 and 65 years living in Qidong, China.
Twice a day for a period of 10 days, the participants drank a placebo or a broccoli-sprout beverage containing one of three doses of sulforaphane – "high," "medium," or "low." After drinking the beverage, the participants provided a urine sample, which was assessed for benzene metabolites. The researchers found that the high dose of sulforaphane markedly increased the production of several urinary benzene metabolites. These findings demonstrated that a broccoli sprout beverage containing sulforaphane enhanced the detoxication of benzene, an important airborne pollutant.
---
In Memoriam
Lewis B. Cullman (1919 – 2019)
The Cullman Chemoprotection Center's longtime patron, Lewis B. Cullman, has passed away on June 9, 2019, at the age of 100. Lewis and his wife Dorothy (now deceased) were extraordinarily generous patrons of the fine arts, the humanities, and the sciences. Their connection to Johns H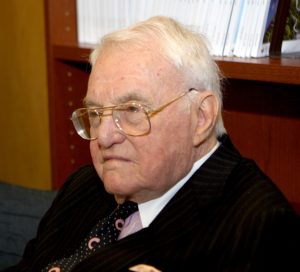 opkins and to the Center's work started almost 30 years ago, when he started asking the late Dr. Paul Talalay for scientific advice on some of the Cullmans' philanthropic targets, such as the New York Botanical Gardens (NYBG). With Talalay's counsel, Lewis ultimately funded and helped to inspire the NYBG's molecular systematics program.
The Cullmans then went on to support the research started in Talalay's Molecular Pharmacology Laboratory and to help provide the funding to establish the Brassica Chemoprotection Laboratory in 1993. The latter was re-inaugurated in 2011 with a much broader mission as the Lewis B. and Dorothy Cullman Chemoprotection Center at Johns Hopkins University School of Medicine. The Cullmans' funding was critical in permitting our work to continue in the face of lean NIH funding, especially in the early days of this research when it was neither popular nor attractive to most funding agencies. Lewis recognized that rallying dietary plants and their defensive compounds (phytochemicals) to the defense of human beings faced with an onslaught of chronic disease made sound economic and biological sense. Lewis's ever-inquisitive and relentlessly optimistic partnership will be sorely missed. His obituary can be viewed in the New York Times.
---
Frequently Asked Questions
Question: I keep hearing about foods that fight autism, Alzheimer's disease,
 diabetes, cancer, etc. Broccoli sprouts and moringa are frequently mentioned in these reports. Is there any truth to any of this?
Answer: Broccoli sprouts and moringa and the phytochemicals that they contain (e.g., sulforaphane and moringin) are being actively and aggressively investigated by scientists around the world for their potential role in reducing the effects of all of those conditions and many more. Because these compounds have been shown to reduce inflammation, boost the activity of antioxidant and cytoprotection enzyme systems, and interact with a long list of cellular processes related to these and other diseases, the conditions mentioned in your question are all reasonable research targets. As the biology becomes more and more compelling (e.g., test tube, cell culture, and/or animal studies) you will likely start to hear of more clinical work (e.g., human trials) being done, published, and in some cases reported by the popular press. It would be premature to claim victory on any of these battlefields yet, though!
---
Profiles in Chemoprotection
In our new web series, Profiles in Chemoprotection, you can read about innovations in the science of chemoprotection, the people involved in that work, and what those people do when their lab coats come off – kayaking with walruses, hiking along the coasts and waterways of Scotland, or playing the mandocello.
Profiles in Chemoprotection, Part II: Albena Dinkova-Kostova, PhD
Before Albena Dinkova-Kostova, PhD, (pictured, left) trained to become a scientist, she trained as a seamstress.She was 16 years old and living in Ruse, a large cosmopolitan city located on the south bank of the Danube River in northeastern Bulgaria, her home country. Just across the river lay Romania, connected by a single bridge that ran through the heart of Ruse. Bulgaria was under socialist rule at the time, and the country's education officials had mandated that all students who graduate high school should know how to do something practical. Some students trained to type, while others trained to drive. Dr. Dinkova-Kostova trained to sew.
"I learned that you have to be very careful before you cut things," says Dinkova-Kostova. "You can't un-cut them."
>>>> Read more in our website segment: Profiles in Chemoprotection
---
Want to see more research?
We need your help to keep all of our exciting research projects going. Our center is funded primarily by grants and philanthropy – not internal funding. Please consider contributing to move our important research agenda forward. Find out more about how donations benefit both you and us here.