Our Latest News | April 2020
Our recent study identified biomarkers for response to sulforaphane treatment in boys with autism.
Autism spectrum disorder, or ASD, is a neurodevelopment disorder characterized by impaired social interaction and communication, as well as restrictive, repetitive patterns of behavior, interests, and activities. Clinical trials have demonstrated that sulforaphane from broccoli sprouts reduces the characteristic behaviors associated with ASD. A recent study conducted at the Cullman Chemoprotection Center as a subcontract to a US Department of Defense-sponsored clinical trial has identified biomarkers for monitoring the body's response to sulforaphane among children with ASD.
Biomarkers are measurable indicators of biological processes in the body. They can indicate the presence of disease or how the body responds to dietary components or drugs.
The team wanted to identify potential biomarkers from key biological pathways that sulforaphane is known to influence. These pathways, which regulate the body's response to oxidative stress, heat shock, and immune function, are often dysregulated in people who have ASD.
"Presently, the diagnosis for ASD is based purely on phenotype and there are no validated or credible laboratory tests available," says Dr. Hua Liu, the first author of the study. "Evidence-based treatments are limited, and there is no approved medical therapy to address either core ASD symptoms or the biochemical processes associated with the condition."
The clinical team involved in the study – led by Dr. Andrew Zimmerman at the University of Massachusetts Medical Center – drew blood from ten boys with ASD (aged 6 to 12 years) before and after a 14-day course of treatment with an oral supplement that delivers sulforaphane. Then the team at the Cullman Chemoprotection Center isolated peripheral blood mononuclear cells (a type of blood cell with a single nucleus) from the boys' blood. They analyzed the mRNA (a proxy for protein levels) in the cells to gauge the boys' response to treatment.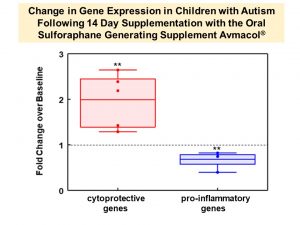 They found that mRNA levels for cellular protective enzymes and heat shock proteins in the cells increased with sulforaphane treatment. The mRNA levels of several pro-inflammatory proteins decreased, however. "These findings, and future findings in the main intervention, are aimed at assessing the functioning of a variety of target pathways," says Dr. Jed Fahey, senior author of the study.
Dr. Zimmerman added, "This could ultimately guide the development of novel treatment strategies – including nutritional interventions – to correct the biochemical abnormalities commonly seen in children with ASD and thus possibly improve the symptoms associated with the condition."
---
New Moringa Blog
Immune benefits of moringa highlighted in a recent blog.
Our friends at Kuli Kuli posted an informative blog that describes some of the beneficial properties of moringa, a tropical plant native to central and southern Asia.
Moringa contains moringin, a close chemical cousin to sulforaphane. Moringin exhibits many of the same properties as sulforaphane and might be beneficial in promoting immune health. The author of the blog explains how sulforaphane acts on Nrf2, a cellular protein that regulates the expression of antioxidant and stress response proteins, and how it switches on the activity of natural killer cells to improve immune function.
You can read the full blog here.
---
Frequently Asked Questions
Question: Is sulforaphane effective against COVID-19?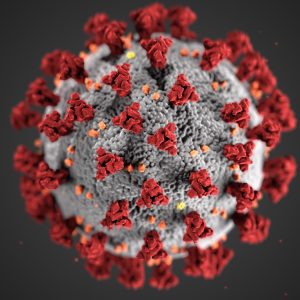 Answer: Coronavirus disease 2019, or COVID-19, is a respiratory infection caused by a virus known as SARS-CoV-2. We have received many, many questions about whether sulforaphane is effective against COVID-19.
Please be aware that there are absolutely no trials (clinical or otherwise) nor are there any animal or cell culture studies suggesting that either sulforaphane or any other isothiocyanate or glucosinolate is effective against COVID-19.
Please do not propagate or perpetuate false hopes.
There are published studies pitting some of the isothiocyanates against other viruses, but not in infected human beings, and certainly not with SARS-CoV-2. In order to be safe, to bolster your immunity, and to maintain your defenses against any pathogens, please follow medical advice and public health recommendations that include social distancing; healthy sleeping, eating, and exercise habits; and the use of supplements as individually appropriate.
Question: Should I consume moringa leaf powder or broccoli sprouts/seeds with a meal or on an empty stomach with a glass of water?
Answer: In clinical studies, where we want to have precisely the same conditions in every way possible for each person, we typically have our study participants take their doses early in the day, before eating, with a glass of water. However, moringa powder and broccoli sprouts/seeds can cause some mild digestive discomfort (such as belching) when taken on an empty stomach, so we recommend that folks at home consume them with other foods.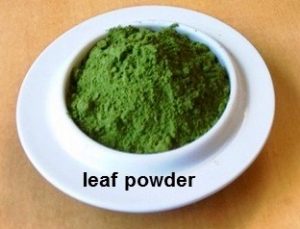 The good news is that our work suggests that the range of bioavailability of the active ingredients (the glucosinolates and the isothiocyanates produced from them) in moringa and broccoli sprouts/seeds is pretty comparable whether you consume them with food or on an empty stomach. Hints from comparing different studies suggest that an empty stomach might actually make the compounds a little more bioavailable, but this is not proven, and the difference would not be important to you as a regular consumer.
Question: Is it important to brew moringa powder in water, or is it okay to consume the powder/leaves directly?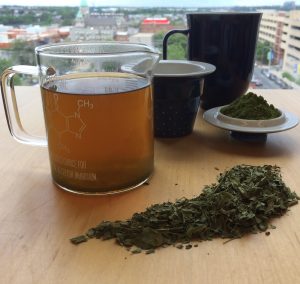 Answer: You'll get many of the phytochemicals in moringa if you "brew" in either cold or hot water. However, you get EVERYTHING, including the fiber, protein, and heat-sensitive compounds (such as myrosinase), if you consume the powder or leaves directly. Some people aren't fond of the taste of the powder (as with any food!), but the tea has an almost sweet flavor note, and most people find it very pleasant.
Question: Can you recommend a source for purchasing high quality broccoli seeds?
Answer: We do not suggest, endorse, or support any particular vendor of broccoli seeds for sprouting. That's because without buying and testing each lot of seeds in our laboratory to determine species, viability, pesticide content, and glucoraphanin potency, we cannot be certain that they are of sufficient quality. The glucoraphanin potency, in particular, is difficult to gauge because it varies year-to-year, harvest-to-harvest, even in seeds from reputable sources.